The Dark Stack is where 80% of the work happens.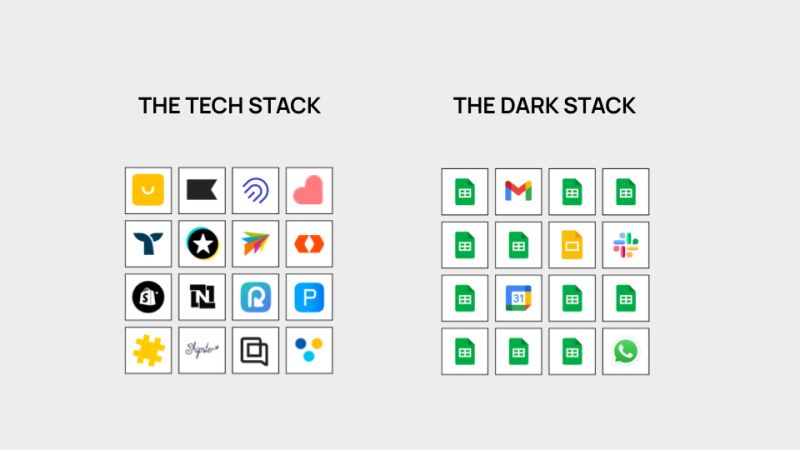 It is also where typos get made.
The last number got dropped off a barcode.
You realise there is no audit trail to follow.
It is where questions get pinged at you without context.

I designed tech stacks with brands, and most were growing from £3M to £300M. So for 10+ years, I saw fixing a gap with a CSV as a fix to finishing a solution. But I only saw the Google Sheet we were adding in; I couldn't see all of the friends it'd have over in the Dark Stack.

There is more to your operation than purchase orders, goods receipt notes, products, inventory, sales orders, shipments, tracking details and returns. Are you even still awake after reading those words one after another?

You've got launch dates, deadlines, collaborations, events, photoshoots, new prototypes, and whole new categories of products sometimes all at the same time.

That's where you get the best ROI from addressing The Dark Stack inside a brand. They run your meetings, arrive in your inbox on a Monday and form the basis of critical decisions.

How to design your Dark Stack matters. This is how to start analysing it in a new way:


1. Identify the root cause of issues that impact the key events and milestones that drive your brand.

2. Create an inventory of The Docs Stack that is used in the processes you are having issues with.

3. Write up each of the issues alongside the document that causes it.

4. Identify the duplicate or shared information that is used across them all.

5. Record the process flow and describe how each document is used and where the process is falling down.

6. Schedule 20-minutes with me and I'll recommend a solution if one exists or propose how it could be done using Low Code.

The Dark Stack technology may be free to use or included in your GSuite to 365 subscriptions but the lack of diligence with which the processes are designed using it is expensive.

The worst anyone gets is a way to design a spreadsheet better. The best you could get is a purpose-built solution that is built around your business.
- Thanks, Oliver