The Miro Board that started my business from £0.00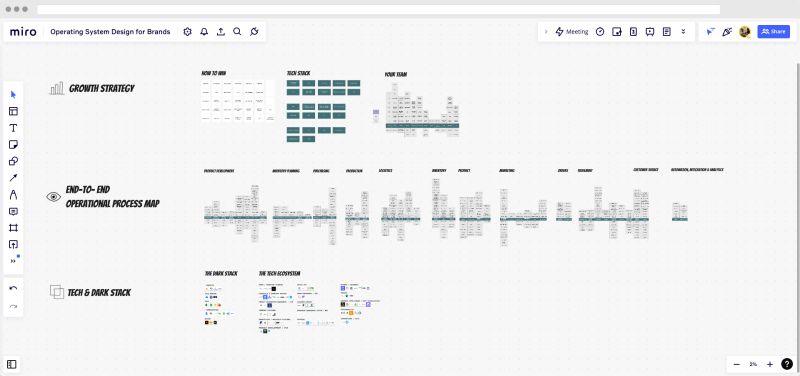 This is one of the ultimate lessons in why you should try and show your knowledge rather than tell people about it.

The win the first clients for my consulting business I walked them through the end-to-end operational process map I built in Miro.

I explained how I'd realised that whilst everyone selling technology is talking about replacing Google Sheets and automating things, they invariably require them to run their solution.

Surely not the big ERPs that cost £0,000's per month? And require a big investment just to get implemented?

Actually, some of them are the worst offenders, but I don't blame them. Ecommerce is complicated and every company is different.

If going for an all-in-one doesn't solve this problem so what will?

I'm betting on two things:


1. An improved and enhanced knowledge of the tech ecosystem.


I'm reviewing 3-4 tools per week with Founders, particularly early-stage that people won't have heard of. This is going into the Tools Directory currently at 457, trending at 2 new tools per day.


2. No Code / Low Code.


Problems that slip through the gaps in the tech stacks and reside in Google Sheets can be consolidated into No Code / Low Code apps. They don't justify someone building a software business to solve or the vendors catering for the nuance, but they can be better handled using something with an API, Enterprise security and designed by a Product Designer.

What I've been doing is translating the operational processes and requirements into a standardised structure, grouped by their operational function.

Now I'm mapping them back against solutions and considering how to sort processes by sales channels, product type, and fulfilment type. This should mean you can sort the processes by your stage of business, model, product etc. and see what operational considerations you've got and use that to communicate your needs in a simple way to vendors.

My ideal scenario is that brands can self-diagnose their operations which would make them much for efficient for software vendors and also provide software vendors with their requirements. Selfishly, this will mean people could use my framework and then work with me to help solve problems they can't themselves having already got a great deal of value from using the tools I've built.

I've used the framework with 10 brands in 5 months and the feedback has been good. It's not perfect, but I am just getting started.