What should a CRM designed for your brand's B2B sales team look like?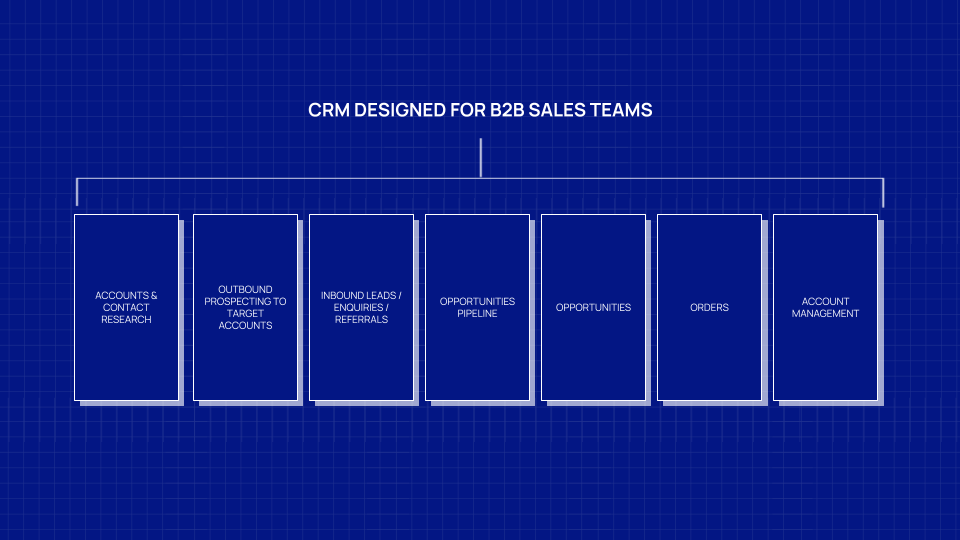 The amount of sales and marketing methodologies, processes, tools and technology built for SaaS (software-as-a-service) over the past ten years is mind-blowing.

In the B2B software community, this image of the Martech landscape detailing over 8,000 solutions is well known.

Off the back of all the mountains of VC money poured in, sales talent has followed, and the best practices for B2B sales have been thoroughly tested. Of course, plenty of good and evil has come of it; some of the tactics worked too well and became spammy or annoying real fast, but at the core, it's about supporting the same B2B sales motion it has always been for companies, opening new relationships, building on them and retaining your best ones.

The state of B2B Sales in physical product companies
What has astounded me in coming into brands selling into wholesale and trade accounts is the same systematic approach to the B2B sales process isn't there, and neither are the tools and best practices.

I have lived and breathed the evolution of these tools, starting in B2B sales in 2010 using Salesforce. I copied and pasted website contact details into Salesforce and made cold calls for my first 12 months. I mainly was cold-called steel companies in the UK amid a recession. It was grim.

When I entered my last employed role, we had an established 2-person unit dedicated to sourcing contact and account data using web scrapers and automation. They had email sequences that'd send a combination of emails and reminders to the person doing the outreach to put in a phone call or message the contact on social media.

Leads were directed into Hubspot CRM; from there, the sales team, myself, and one another would pick up the information and organise the meetings. The meetings were booked via a link and done over zoom. We recorded all the calls and created highlights from the recordings to build our ultimate sales script and examples of how to handle objections that commonly come up. We were making the playbook whilst we were doing it. Check out Grain for doing this.

We could share any specific feedback from buyers with the product team using a link, and they could hear what buyers had to say first-hand. This tight feedback loop between the buyers and the product design/development team is critical in software. Is it not so crucial in B2B?

Closed Won accounts were handed off to the Client Success Team, who solely focused on delivery and account management. This keeps your salespeople and accounts openers free to prospect more accounts rather than worrying about delivering on the ones they have closed.

Not everything that works in B2B software will be suitable for a physical product sales team, but some concepts are worth considering.

What makes up a CRM designed for B2B sales teams?
Accounts & Contact Research
Salespeople prospecting outbound need good data. I learnt this the hard way when I hired four salespeople into Peoplevox in 2016.

Accounts and contact research is a data-gathering exercise that can quickly get messy if you don't have a central source of truth for company and contacts data. What is worse is that this data doesn't age well at all. Buyers move around, and companies come and go, but you need to build a process to keep your data up to date.

If I were building an accounts and contact list from scratch now, I would do my data manipulation in Airtable instead of Google Sheets to make it easier to add multi-selects and dropdowns, dedupe the records and visualise the data.

Hubspot is my preferred CRM, and I'd import the company and contact data to optimise the next stage. Of course, other CRMs will do the same things as Hubspot, but because it's the market leader for SMEs, the available partners, integrations etc., make it a safe choice. It also starts for Free, so you can try it out and get some buy-in before diving in.
Outbound Prospecting to Target Accounts
Using your target customer types or criteria, you need to take a long list of accounts and bring some focus to your demand generation efforts. Each account needs to be assigned a salesperson to avoid multiple people contacting the same account by mistake.

You may go for a double-pronged approach in certain accounts involving your CEO/Founder but generally speaking, there is more risk of someone feeling spammed if you don't put account ownership in place. Nothing says meaningful relationship like two different people from the same company coming at you with similar pickup lines.
Inbound Leads & Enquiries
Your inbound leads should be your best leads. Often these are indirect referrals from other buyers or people who have found your brand online and reached out. The trap is that your inbound leads will also be your worst leads in terms of conversion rate. Anybody can fill out a form or email your shared inbox for wholesale enquiries.

This is where a B2B CRM starts to come into play. The form on your website is connected to your CRM, which uses the lead's website domain to match them to your account. Automated notifications can be triggered over Slack or email when a Target Account submits a form. Hell, I'd like a text message place because there is no way you want to miss those.

Inbound leads can be pushed into their Pipeline with stages like Open, Contacted, Responded, Qualified Out and Qualified to keep track of their progress. You can then report on the conversion of leads against standard stages and analyse team performance.
Opportunities Pipeline
You need to build a pipeline, follow a process and measure your conversion rates between stages. When you know your conversion rates, you can plan for how many potential accounts you need to size up your research and outbound efforts to match them.

Measuring progress against pipeline stages also means you can write your sales process around them and give a shared understanding of what a deal looks to move to between stages.

An example of pipeline stages:
Prospecting
Qualified
Evaluation
Buyer-bought in
Contract / Quote Issued
Awaiting Final Order
Closed Won

You can create multiple pipelines for different regions or salespeople and configure them in a way that makes sense for your business.
Orders
The Order process is where I'd hand off from your sales CRM to your order system. This could be B2B App connected to Shopify like Sparklayer, your ERP or a B2B Wholesale platform like Joor or NuOrder.

What I would track in your CRM on the Deals/Opportunities is a target total order value. This means your Pipeline would show you your total revenue should you close the deals at each stage of your Pipeline and make it easier to see if you've got the pipeline coverage to hit your sales targets.
Account Management
The killer features of a CRM include email tracking, email logging and the ability to set up tasks and reminders across your team to take action on accounts.

I'd keep your use of a CRM for account management to a minimum, but I would get every email sent to an account logged in your CRM. This gives you a single view of all communications with your
customers.

The gaps are going to be messages sent over social media like Instagram. B2B CRMs have just caught up with LinkedIn integration, so TikTok and Instagram connections will be far off. If you need to use either of these platforms for outbound, I'd consider an Influencer specific CRM that is likely to work better with these apps. Such a CRM would not replace the need for a B2B CRM.

There is a WhatsApp connected to Hubspot, though, which is a helpful app to connect, given how much B2B relationship building is done over messenger.
- Thanks, Oliver
PS. Below, you can share feedback on this post with me, so please do it if you feel something.