I designed this style of visualising systems because anyone can do it and you probably should.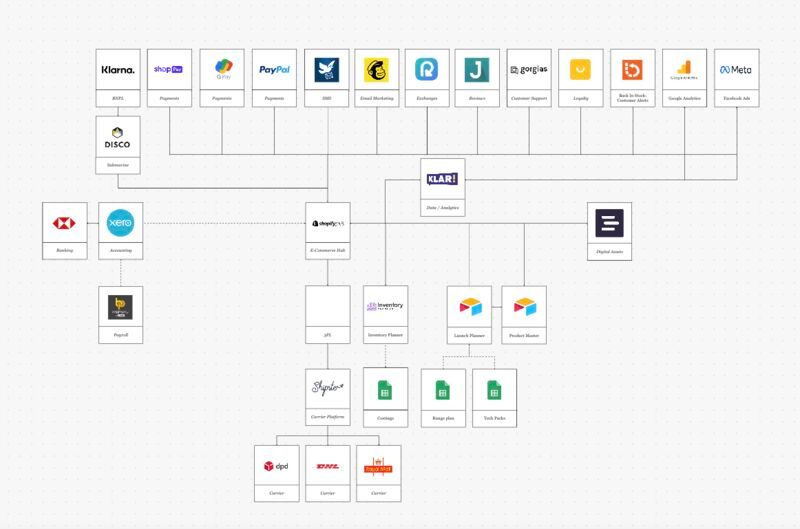 Here is how and why I designed it to look and work like this for designing solutions to Ecommerce Revenue Operations problems:

1. Put your ecommerce platform at the core. There is always a tonne of apps connected to Shopify, BigCommerce like payment gateways, email marketing and CRO tools. Having them all together on that top line creates a nice divide between the operational systems.

2. Include documents in your tech stack. Bringing the google sheets in with their names formalises their role in your operations and sheds light on the extent of your sheets empire.

I learnt this working on product operations at SupplyCompass. The documents used across design, dev and flowing into merchandising are often much more important to the business's success than the PO they end up producing.

3. Don't worry about the data transactions/flow of integrations. You can get into the detail of what data goes where when you're designing integrations, but don't waste time on it at this level.

4. Include your banking, payroll, HR and spend management solutions. There is too much focus on operational systems and not enough on some business basics that actually can be huge efficiency gains.

5. Dash - digital asset management. If you don't know, you should know.

6. Klar - absolutely killer analytics and BI for growing brands. German precision engineering.

7. Inventory Planner by Sage - they're going through some changes now they're part of Brightpearl aka Sage but expect a service level and implementation approach that'll mean you're able to get more from the product than if you'd just signed up online.

There are other purchasing/inventory planning tools out there. Contact me for recommendations as this space is moving FAST.

8. Shipster - shipping automation that doesn't charge you per label. Perfect for scaling businesses that use a WMS.

9. Airtable - I included 2 Airtable apps in this tech stack that we designed and built based on my experiences working in PLM at SupplyCompass and speaking to hundreds of brands.

If you're looking to make your product launch process repeatable or improve how you create and share product data, hit me up direct. Most brands aren't ready for a PLM and old-school PLMs like Centric aren't built for fast-moving, innovative teams.